What is playground equipment?
Recreational equipment designed to help children develop physical strength, coordination, flexibility and agility in an outdoor environment is called playground equipment. Such equipment also helps children have fun while developing social skills from a young age. Some examples of playground equipment are seesaws, swings, jungle gyms, trapeze, and slides.

What are some common materials used in playground equipment?
Steel
Wood Chips
Artificial Grass
Rubber Mulch
Engineered Wood Fiber (EWF)
Recycled Plastic (High-Density Polyethylene or HDPE)
Play Sand
What are some pros and cons of playground equipment materials?
Three main types of materials are used in modern playgrounds. Each has its own pros and cons.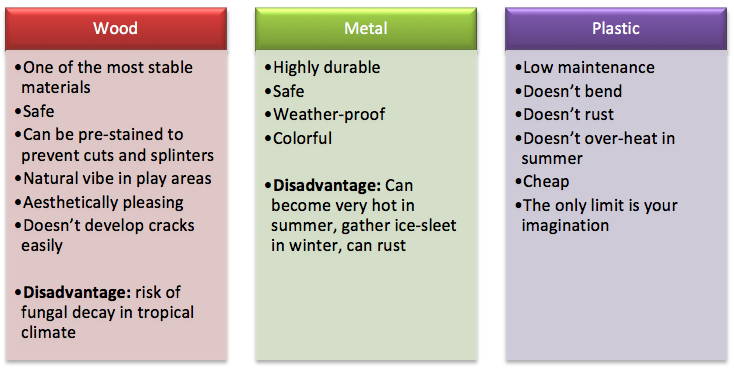 what kind of plastic is used in modern playground equipment?
High-density polyethylene (HDPE)
is the most common form of recycled plastic that is used in modern playground equipment. Type 2 HDPE is eco-friendly, being mainly created from used products and being recyclable at the end of its shelf life. Some advantages of using HDPE are:
Scratch resistant
Easy to clean
Cannot rot, swell, chip or splinter
Can be recycled
Helps in creating smooth edges and a variety of colors
No moisture absorption
UV stable
Can withstand hard weather conditions
What factors should one consider while choosing playground equipment?
While choosing the material and design for playground equipment, some factors should be kept in mind, such as:
Purpose: What games do the kids generally like to play? How much time do they spend in the park? What age group do they belong to?
Cost: What is your budget? What is the future plan regarding the play area?

Maintenance: How much time do you have to clean and look after the equipment? Will you hire cleaning services? How easily can the material be cleaned?

Accessibility: Is the material readily available? Is the equipment age-appropriate? Are you getting high-quality material at a reasonable price?

Weather: Does your area get high rainfall? Does it have harsh summers and winters?

Aesthetics: Is the equipment engaging for children? Will it attract them? Will it help in developing physical and mental skills in kids?

What are some tips for selecting the right playground equipment?
Give safety the highest priority: From surfacing to finishing, consider safety as the first and foremost criterion. For example, rubber is a shock-absorbent material. Loose materials, such as rubber mulch, can be used beneath high-structured equipment.
Inspect and replace the equipment regularly: Look for signs of wear and tear. Look for scratches, sharp edges and anything else that could lead to injury.

Choose age-appropriate equipment: Always consider the age of the children while choosing equipment. This will ensure the best use of the equipment, as well as maximum benefits for the children. Create small fences to keep toddlers out of the play areas for older kids.